OK, chances are your office doesn't actually need saving, maybe just livening up a bit or modernising. This is the perfect time to go for it because these are exciting times for office design, particularly when it comes to the latest trends in office partitions. The open-plan layout is the design of choice for many offices nowadays and partitions play a vital part in the design of these workspaces. Open-plan layouts with a clever use of office partitions offer so many exciting options for creating a vibrant and modern office.
That's why office partitions are a must-have item of office furniture.
So tell me more about office partitions

Every office needs partitions. It's that simple. They're the perfect solution to privacy problems in an open-plan office and are perfect for dividing your office into breakout areas or meeting places. Desk screens are a popular addition to the common bench system of desks and provide a degree of privacy without compromising the collaborative working environment.
Office partitions are versatile and durable items of office furniture that add so much to your office plan. The latest designs mean they can be used for pretty much anything, from creating private areas in an open-plan office to providing a focal point in your reception area or entrance.
But aren't partitions plain and boring?
Actually, the exact opposite is true.
Office partitions now come in pretty much every conceivable colour and finish and are fully customisable down to the smallest detail, so you get the look you are after. Office partitions can liven up any office space, maximise the available workspace and increase the productivity of your workforce. Gone are the days where an office was divided into small rooms with people locked away behind closed doors staring at their computer screens instead of interacting with each other.
"But I want my privacy", I hear you say. Well, one of the great features of partitions is they can still be used to create your own private space. Many partitions offer sound-proofing features (even in transparent partitions) so you can see other people without listening to their phone calls and hearing the noise from their radio.
OK, so tell me about the benefits of fitting partitions in my office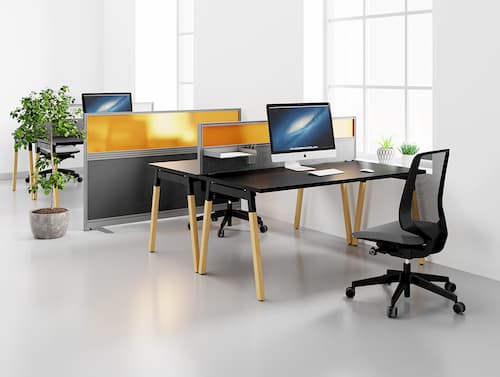 There are so many benefits to fitting the latest office partition designs it would take me all day to list them here – but check out a few I have listed below:
• You can use office partitions to make the most of your space.
• Work in a messy office? – remove the clutter and stick all of those necessary items of office equipment in storage partitions.
• Change your office layout every day or for different occasions with freestanding and moveable partitions.
• Add your company logo or brand colour to a partition to project a professional image.
• Do you want to liven up your office with pink glass partitions? Easy. Want them fitted at an angle? Done – any more requests?
• Privacy without hiding away. Choose transparent partitions with in-built blinds for when you do need your own space or for confidential meetings.
• There are many different sizes of partitions available including full height partitions, which are great for storage or filing.
• Interactive partitions have in-built white boards and television screens.
Great, so I can have a television screen in my office partition?
Yes, of course you can! And your meeting or conference room can be livened up by the addition of screens in a partition wall so you can display your latest news or products for all to see. How about partitions or desk screens between desks having shelving built into them for a great place to store your computer or other equipment?
But I've got a really small office – won't partitions make it look cluttered?

In a word – no!
Office partitions help you to make the most of your space and make your office appear and feel more organised. In fact, they are perfect for small offices. Not every business has enough room for large conference or meeting rooms. If clients visit your office for a meeting or presentation and you don't have a room big enough to fit everyone in, use partitions to create a custom meeting area. They are easy to move and quick to install and can be used anywhere, from creating a formal meeting area to jazzing up a designated breakout area.
So basically I should invest in office partitions for my office?
Try it and see. There's so much choice now and partitions can be used for so many different types of office design and they're available in a range of designs suitable for any budget. So have a look at the range of office partitions now available and you will see office partitions are an essential item of office furniture.