How do you choose the correct office furniture? What should you be looking for? What are the latest trends? Is it worthwhile spending money on high-quality items and chairs that are ergonomically designed? These are all questions pondered by businesses or individuals looking to create a brand new office space or update an existing office fit-out.
The most important thing to remember is that a well-designed and comfortable office with stylish and well-made office furniture will increase the productivity of your company. So what should you look for? The below tips will help inform your decision-making.
When choosing your office furniture, the main thing to remember is there is so much choice and many of the items can be customised to your exact requirements. Choosing high quality office furniture is a must, the last thing you want to do is purchase inferior furniture that breaks or does not provide comfort to those who will use it on a daily basis. Choosing office furniture on price alone is a false economy because you will end up wasting money replacing it.
Look for a quality brand – Radius Office Furniture stock a wide range of office furniture produced by the leading brands Quando, Ergotron, Buronomic, Bisley, Profim and Leap Electric Desks.
Ergonomics, ergonomics and ergonomics
Is it worth spending a bit more money on ergonomic furniture? Definitely. Think about it – where do most people spend the majority of their working day? Sat at their desk. So a comfortable and safe office chair is a must. You will know from one of our previous Blog Post that the office chair is arguably the most important item of office furniture because if you go for the wrong option, the implications can be enormous for your business – from medical conditions leading to sick days and loss of productivity to the wrong look and feel for your office. It's also important to note ergonomic office furniture won't break the bank. Here at Radius Office Furniture we have a wide selection of ergonomic office furniture to suit all budgets.
But it's not just office chairs that need to be ergonomic. Height-adjustable desks, sit-stand desk mounts and tables and monitor arms mounts all assist in providing a comfortable and flexible work space. Ergonomics are the way to go when choosing your office chairs, desks and workstations. The additional cost will be worth it and you will save money by having less staff lost to sick days and uncomfortable and unhappy staff being less productive. And the great thing is, there are so many options, ranges and styles out there.
Remember funky breakout and soft-seating office furniture
Remember funky breakout and soft-seating office furniture
We have blogged previously about the importance of incorporating breakout areas into your office design. Not only do well-designed breakout areas provide somewhere for employees to relax or have informal meetings, they also help to break up the office space and improve the flow of the office.
Nobody wants to sit at their desk all day or spend half an hour in a dreary canteen on cheap plastic chairs, which means that breakout and soft seating office furniture are important things to consider in any office design. Tub chairs look great in a reception area and are great for comfort and versatility. An important consideration when choosing breakout and soft seating furniture is versatility and adaptability. For example, at Radius Office Furniture, our soft seating furniture comes in a range of colours, finishes and styles and can be modified to suit your exact requirements.
Storage solutions and other great accessories
Have you ever walked into an office crammed full of desks overflowing with pieces of paper and files? Where every available surface is covered with staplers, hole punches, box files and other items of office equipment? What did that make you think of the people who worked there? I bet it wasn't anything positive.
Every office needs adequate storage space. Storage solutions need to be at the forefront of your mind, whether you are updating your current office design or creating a whole new office. We have a great selection of storage solutions, including pedestals, bookcases, tambour cupboards, shelves and storage cabinets . Having a clean and well-organised office will increase your productivity.
As well as cupboards and pedestals, consider using accessories such as under-desk cable management baskets and spines to hide away those unsightly power leads.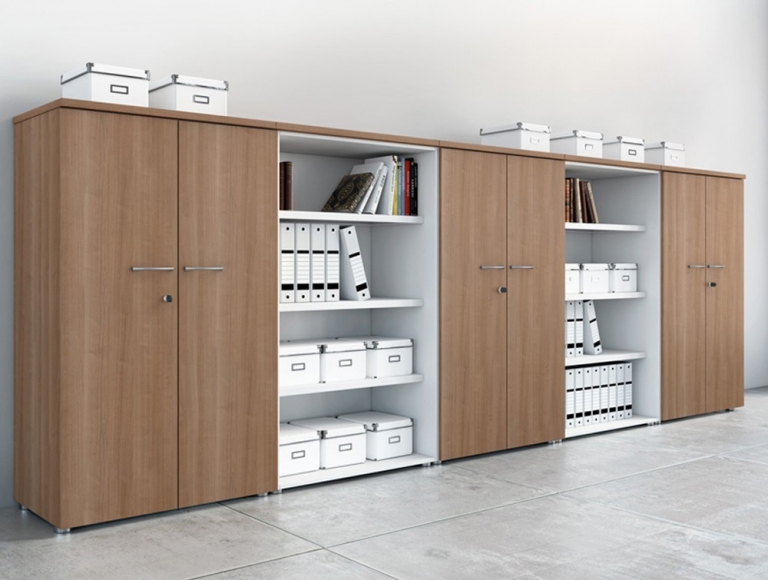 Office screens and partitions are becoming increasingly popular items of office furniture. They can create temporary private areas in your office, for example, if you are meeting some clients or visitors in your office and you don't have a boardroom or meeting room. Acoustic screens are also popular and an ideal solution to creating an element of privacy in an open-plan office. Screens and partitions can also be used to display your company logo or brand colours and are a great way of livening up a stale office environment. Additionally, just to prove how versatile they are, partitions and screens with storage areas are also available and are a great solution to providing storage in a limited space.
There are many things to consider when choosing the right office furniture for your office. Everyone wants and needs a productive and comfortable work space that looks great. Hopefully, the above tips and suggestions have made you think about what you need to look for when choosing your office furniture – and remember, the professionals are here to help – call Radius Office Furniture for advice, support and a free quote.