Office spaces are sometimes boring and mundane, however some offices are particularly extraordinary. We have made a list of some of the coolest and most innovative office spaces around the world and what makes them so unique.
Google HQ Office – Mountain View, California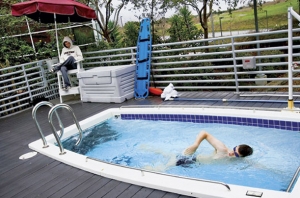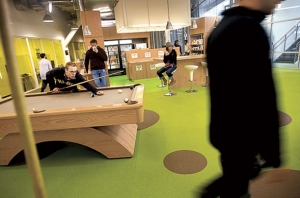 Probably one of the most iconic offices around the globe is Google. From starting in a dorm room and garage, Google now has 70 offices (and counting) in 40 countries around the world. Their main headquarters, known as Googleplex, is located in Mountain View, California.
Google is a fun and dynamic workplace, with a lot of their staff fresh from college. Their offices, therefore, offer a young and vibrant atmosphere. The lobby, for example, has lava lamps on display, which creates a playful atmosphere.
It is clear by their office space that Google care about the wellbeing of their staff. Not only do Google employees have access to great food free of charge throughout the day, they can also avail of the company's swim-in-place pool, monitored by an on-site lifeguard.
Google also offers several employee lounges where you can relax, have a snack, or challenge a co-worker to a friendly game of pool. (Checkout cool Breakout Area furniture Radius has to offer).
Although we have only mentioned a fraction of the cool facilities Google has to offer, it's clear to see why they've been labelled as one of the coolest offices in the world.
Facebook HQ Office – Menlo Park, California
Based in Menlo Park, California, Facebook now has a campus of 430,000 square feet. Described by Mark Zuckerberg himself as "the largest open floor plan in the world", Facebook's new headquarters (as of 2015) is both glamorous and exuberant.
Zuckerberg's main priority when designing the new space was increased collaboration between employees by creating one large space instead of many smaller ones. In doing so, the offices mirror what Facebook aims to achieve: connecting the world in one, large space.
Facebook believe that in order to gain the most productivity and enthusiasm out of their staff, if is crucial to offer downtime and entertainment spaces. Their entertainment spaces include games such as Guitar Hero and XBox 360 just to name a few. If it's something more quiet you desire, employees have access to a Chess room, which also gets the brain juices flowing!
Have a look at our Acoustic Screens which don't only cancel out noise, but are also soft to touch and fun to look at!
Another cool trait of Facebook's Headquarters is that the names of their meeting rooms are taken from Pop Culture.
Not only is Facebook's Headquarters fun to look at, it is also eco-friendly. With over 100,000 native plants placed within the building for insulation, the heating and cooling costs are kept to a minimum.
Missguided HQ Office – Manchester, UK
Now, this may be a new one to the list, however we believe it is very worthy. With the Head Office in Manchester, UK, Missguided is one of the fastest growing Online Fashion Retailers in the UK and has expanded into USA, Australia, France and Germany. Established in 2009, Missguided's CEO Nitin Passi developed the company entirely on his own.
The office is extremely vibrant and gives off an incredibly positive vibe. With hues of purple and pink and unicorn heads mounted to the wall, the space is rather ethereal. The space also consists of egg chairs, an indoor and outdoor garden, dj booth, dancefloor, swings and a selfie tunnel (living in a 'selfie-generation', Passi created a tunnel with mirrors in order to capture the perfect selfie). Passi made it very clear that Missguided is not a corporate company and therefore did not want a corporate headquarters. Their office embodies their unique brand identity.
What we particularly love about Missguided's office space, is their use of inspirational quotes scattered throughout. From "Good Vibes Only" to "Do What You Love", Missguided is constantly reminding their staff the importance of loving what you do.
Airbnb HQ Office – San Francisco, California
Located in San Francisco, California, Airbnb is also famously known for their funky headquarters. IDF Studio Designs wanted to showcase Airbnb's global expansion in their office layout by creating virtual city locations. For example, guests enter through Brooklyn which is where the company's service began. The office coffee shop is represented as Cairo while their hot spot represents Mumbai. They then have individually designed hangout areas which mimic cities/areas around the world.
Their meeting room spaces are also very unique, some of which are designed to look like tents.
All of these designs are specifically unique to Airbnb as they showcase exactly what they are about – homestay networking.
Why not get in touch with someone from Sales Team and we can help you design your office layout? We also have a wide range of office furniture suitable for your various needs.