There are many steps that you could take to decorate and furnish your office on a budget. Luckily for you – minimalism is a huge trend, therefore less is always more! One of the biggest things to remember when searching for great deals is that quality should never be compromised. Your office furniture should last you a decent amount of time, especially if you want value for your money. Whether it's your home office, executive office or full office layout you're looking to makeover, we've got great tips for you.
Buy Second-Hand Office Furniture
There are many pieces of office furniture that really don't need to be bought brand new. Good quality desks, for example, usually come with a 5+ year warranty meaning they're designed to last for a long time. Although office chairs usually work on a 2-year warranty, you could always consider re-upholstering a used chair. This way, you're getting an expensive chair for a fraction of the price and it will look brand new! If you are based in Ireland, check out our range of used office desks, chairs and storage units. We only sell second-hand furniture that is in great condition and is almost as good as new!
Not only does buying second hand save you money, but re-selling your old furniture won't only help rid you of what you don't need anymore, but you'll also make some extra cash! Post your old furniture online or find a business locally who buys second hand furniture. You'll be surprised at how many people will be interested in your old furniture.
Go to Auctions/Liquidation Sales
Keep your eye out for business that are closing down and looking to clear out stock. Chances are they'll be desperate to get rid of what they have and therefore will offer one of a kind specials. This way, quality won't be compromised and you can rest easy knowing you've purchased furniture of a high standard.
Auction websites are also a good source of Office furniture on a budget, though you need to spend more time following the action and double check that items are in good status. Usually their sales are not covered by warranty (policy "Sold As Seen" usually applied).
Try and find wholesalers who sell to private parties, or outlets that sell on behalf of wholesalers. Their prices will always be less than retail price and most of them will offer you a deal if you buy in bulk. Just be aware that wholesalers don't deliver, so you would need to arrange your own transportation.
We have a great variety of wholesaler products for very competitive prices. We also offer great deals for those looking to place large orders. Choosing to buy online not only saves you time, but money too as you can find what you need from the comfort of your own home without having to get off the couch! Sit back, relax, and let us do all the hard work for you.
Although DIY might be difficult to achieve for big office spaces as it can generally take up a bit of time, it's a great option for decorating your home office or cubicle at work. Plants are also a great way to decorate your space without spending a fortune. Big plants add great character to your space and, if chosen wisely, are easy to maintain.
Mirrors are also a great idea for small offices as they give the illusion that there's more space than there really is. Choosing high-gloss furniture will add to this as light will easily be bounced around the room. We have a wide range of High-Gloss Office Furniture to choose from which we can guarantee will make your office stand out. High-gloss paint also adds an extra protective layer to your furniture, ensuring it lasts a long time. Another trick to help make your furniture look more expensive is to go for dark wood colours.
Prioritise what needs to go and what can stay. For example, investing in good quality furniture may be expensive now but will benefit you in the long run. In our opinion, ergonomic chairs aren't only beneficial to your staff's health, but they're made with a higher level of standard compared to the standard office chair. Office ergonomics have proven to be very popular in increasing productivity and general happiness around the office.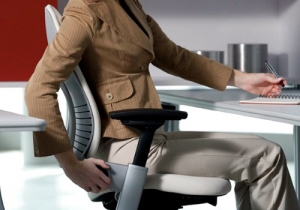 Although office fit-outs can seem daunting, there are many ways that you can furnish your office on a budget. We offer great discounts across the board for large orders and office fit-outs. Feel free to contact us today to discuss your requirements and needs. We also love getting involved in new projects and offer free design layout services!