We spend half of our waking hours in the office; which means that we are spending a major part of our day sitting at the desk in front of our screens. With this modern way of working, the concept of a breakout area in the office is becoming a popular trend if not, a necessity. Why should you invest in a break room for your office?
It is a known fact that overworking can lead to chronic stress and in some cases, even cause job burnout. Apart from it having a negative impact on the physical health, it will negatively affect your bottom line as well. To prevent this, your team members must be encouraged to take a break during their working hours, and it is essential to have a designated place in the office where they can relax and recharge. There are multiple benefits of having a break room in the office; it is a medium for your team members to get some time away from the screen and get refreshed. Moreover, break rooms can also be a place to conduct informal meetings. On the whole, breakout areas encourage people to take periodic breaks from their work and thus boost productivity as well as increasing collaboration in the office. Some of the most successful companies design their offices with this information in mind, we looked at a few of them to see what we could learn. The next question that arises for you is how to design a break room that boosts productivity in the office? The following are our tips for designing the ultimate breakout area for your office.
Your office break room should focus on comfort and convenience since it is a place where your team members can take a break from work and relax. It should be such where the staff actually want to spend their time in. You can create an ambiance of comfort through calming wall paint and comfortable furniture. You can even add plants to make the air fresh or going the extra mile installing green office walls and frames. At Radius Office, we offer a wide range of breakout furniture to suit your specific style and needs, whether it is a lounge chair or a soft, comfortable office sofa, we have it all!
#2 Add Fun to the Break Room
Break rooms should also be a place where your team can have some fun. For this, you just need to provide board games, pool/table tennis tables or game consoles. A break room, if carefully designed, can also be a tool to foster teamwork in the office. These multiplayer games are not only a source of entertainment, but also will be beneficial for team bonding and collaboration in the office. Moreover, it can also lead to increased employee participation. Lastly, exercise balls can be a great addition to your break room as some people energize themselves by staying active and reducing stress.
#3 Provide Food and Beverages
Your staff will appreciate you more if you provide them with food and beverages. Apart from it being a great office perk, for many people, coffee is the lifeblood that keeps them productive throughout the day. Keep an espresso machine in your break room; it will save your team a trip to the cafe. You can also stock your fridge with healthy snacks like fresh fruits and vegetables. This will help your team stay productive and engaged.
#4 Space for Conversation
Design your break room in such a way where your team members can actually sit and have lunch and talk to each other. Make sure that your break room has ample space to foster conversation. You can encourage interaction between teams by placing your furniture facing each other. It will not only make the lunch experience more enjoyable but also boost collaboration in the office. Another thing to keep in mind when designing your break room, is to make sure there is distance from the working space. It will prevent any disturbance caused by people who are taking breaks. You can create a breakout zone. To know more about zoning, you can read our previous blog. If you have an open plan office, you can separate your working area from your breakout area using screens.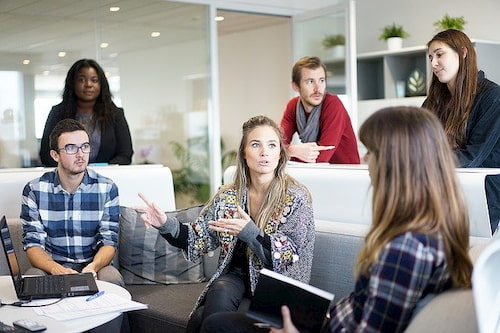 You can add a personal touch to your break room by adding team photos, inspirational posters. Encourage your team to participate in decorating the room. It is a great way to showcase your unique work culture as well as a way for your team members to get involved in office activities. You can also add a bulletin board or a pin board where everybody can get inspired to draw or even write motivational quotes. It will not only be a great bonding experience but also a way for your teammates to inspire each other.
At the end of the day, your team members will be utilizing the space, hence, you should take their inputs on designing the office break room. You should find out more about their thoughts by simply talking to them or through a survey or questionnaire. This will also boost their morale since their needs are being taken into consideration.
Following these tips, you have the perfect recipe to create the ultimate breakout room. Add to this, the cosy breakout and soft seating furniture from Radius Office and you are all set to go. And don't forget to follow us on social media for more trendy office furniture.