Celebrating holidays in the workplace is proven to have many benefits; to name a few, it boosts employee morale, motivation as well as promotes teamwork by allowing your team to bond and develop meaningful connections. Annual traditions also strengthen a company's identity by cultivating a culture that is unique to it. Therefore, establishing traditions in the workplace is just as important as it is at home.
St. Patrick's Day presents an opportunity to have some fun in the office as a team. This festival is known for its informal and vibrant nature and is generally associated with watching parades and attending parties. However, in the case that you don't get the day off from work, there are alternative ways to celebrate this holiday without leaving the office. With a little creativity, you can observe St. Patrick's Day at work and get everyone in a positive frame of mind. If your office is closed for the day, you can still dedicate a day before the actual festival to mark it and have fun.
Planning and organizing work parties can be a daunting and overwhelming task for some people. There are many things to consider, from deciding the food menu to the decorations, entertainment and more. But try not to get "green" with worry because, this year, we are offering some ideas for St. Patrick's Day office activities. With these tips, you wouldn't need the help of a professional party planner to enjoy St. Patrick's Day at the office.
To get everyone in the festive mood, your office should look the part of the celebration! So, paint the office green (not literally), with green balloons, streamers, banners and so on. You can even "go green" this year, by creating your own eco-friendly DIY decorations. With green paper and a pair of scissors, your team can make their own paper shamrocks or other St. Patrick's Day decorations. It can also be a fun activity to enjoy together. If you don't want to keep "all the green in your pocket", provide props like green garlands, bead necklaces, top hats and even ask everyone to wear green. It will not only add an amusing touch but also make for a cool team photo.
If you don't particularly care for decorations in the office, another alternative could be to invest in indoor plants. This gesture will also serve the purpose of contributing meaningfully towards the environment.
There is a Potluck at the end of the rainbow! No party is successful without great food, hence, our advice is to host a potluck lunch in your canteen area and invite the culinary geniuses in your office to prepare a traditional Irish fare like the stew or soda bread. Your lunch menu doesn't necessarily have to be traditionally Irish as long as it includes green-colour food! Make sure to include vegetarian and vegan options such as colcannon or boxty so that no one misses out. Serving refreshing green minty drinks or juices will be a great addition to the meal. Another non-alcoholic alternative could be a green smoothie, or even better, make your own "Shamrock Shake".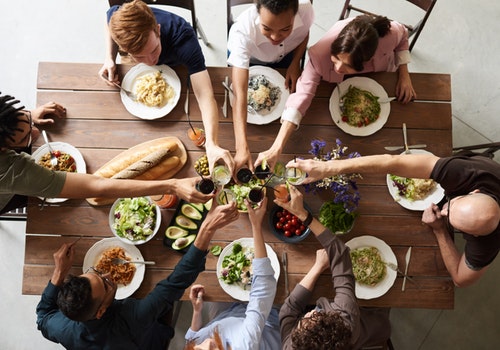 Who doesn't enjoy some fun games and contests during a party? Games are the best way to get everyone together and have some fun as a group as well as boost their competitive spirit.
Trivia Contest: An idea could be to hold an Irish history trivia contest. It will also be an opportunity to learn more facts about Irish culture and history.
Costume party: A costume contest is a great way to get your team members involved in the fun. You can ask your staff to dress up in costumes or simply wear green clothes and the best costume or whoever wears the most green gets a prize.
Desk decorating competition: Let your team get creative with desk decorating contests. Provide the same decorations to each contestant and specify a time limit to add more excitement.
Scavenger hunt: Another entertaining group activity is to hold a St. Patrick's Day-themed scavenger hunt. Hide a shamrock or "Pot O' Gold" (chocolate coins in a pot) in the office and hand over riddle-clues to each team to find it. It allows people from different departments to interact and work together and can be seen as a fun team building activity .
Make sure to declare exciting prizes to get everyone motivated to play.
Playing traditional or even contemporary Irish music, from bands like U2, Kodaline or The Dropkick Murphys, will get everyone in the mood to celebrate. Find a playlist online that has different Irish songs or even better, create your own Paddy's Playlist!
An Irish playlist in the background will be the perfect accompaniment to the potluck lunch; maybe it can even motivate your team to engage in a jig dance-off!
Needless to say, the way St. Patrick's Day is celebrated, has changed a great deal over the years. In whichever way you decide to celebrate the festival, it will add an element of fun and relaxation to your workplace. We hope that these ideas provide some inspiration for your own St. Patrick's Day office party and bring the luck of the Irish to your day!
Did you know? At Radius Office, we are celebrating St. Patrick's Day by offering special discounts on all our Green colour office furniture for the whole month of March. To avail of this offer, simply call our Sales Team to get your discount.