As lockdown restrictions are being lifted slowly, companies are resuming work from the office. It is essential that businesses operate safely according to the Government guidelines provided for social distancing. Returning to work during these uncertain times can be confusing for your team. Moreover, the open-plan office layout, a popular choice for most modern offices, can present a challenge to practice social distancing in the workplace. This is due to the fact that it promotes shared workstations closely placed to one another and eliminates the use of partitions and barriers for collaborative working. Therefore, modifications have to be made in the existing office layout not just to meet those regulations but also to reassure your staff with a safe place. To help you with that, we have provided a few key points to create a safe working environment in the office.
#1 Make your staff aware of the new safety measures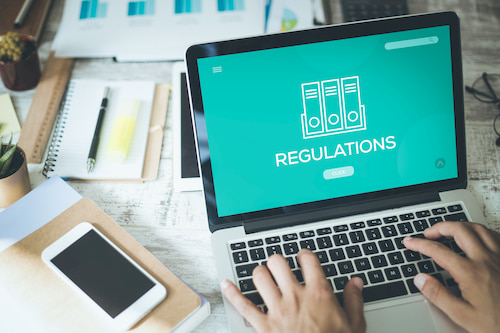 In addition to making changes to the office design, it would be helpful to educate your staff on ways they can protect themselves at work and on the safety measures taken in the office. Send out a memo by email highlighting the new rules. You can include everything from a no-handshake policy, to restrict sharing personal items such as cups, cutlery, food, pens, headphones. Enforce cleaning rules with signs and wall posters for utilising common areas such as break rooms and restrooms or disinfecting shared equipment like printers, microwave and so on. Another option would be to monitor the number of people in the common "gathering" areas.
#2 Reduce the use of common areas
Efforts have to be made to minimise close face-to-face contact between coworkers as much as possible. In the past few years, we have seen a rise in shared workspaces, hotdesking, breakout areas and collaborative working spaces. These common spaces could lead to small gatherings and may likely cause transmission amongst your staff. It is essential to temporarily reduce, if not, completely avoid the use of common areas such as halting hot-desking, use of lockers and, in extreme cases, even encouraging employees to take lunch at their desks. Allowing a limited number of people to use the break room at a time will also prevent crowding.
#3 Prepare a seating chart
To ensure that a 2-metre distance is being maintained at all times, position workstations farther apart from each other and prepare a seating chart to assign individual working space. This will help you map out a clear picture of the available space when allocating spots to your staff. It is understandable that due to the new desk configuration, you will be able to accommodate fewer people in the office at a time. For this reason, we recommend continuing work from home for certain roles that can be done remotely. Also, consider having the rest of the team working in shifts, if necessary. In addition, use social distancing signs around the office as a reminder as well as mark the available/unavailable desks. Put up floor decals around workstations to reinforce the social distance rule.
Shared bench-like workstations are a normal sight in modern offices instead of cubicles, its traditional counterpart. This design is a more economic alternative and allows for collaborative working as well as space optimisation. Although, due to current circumstances, we need to reevaluate our needs and modify the space to keep employees safe when they return to work. Rather than a complete office fit-out, you can make clever retrofits to the existing design to utilise the available space as much as possible. Installing physical barriers between workstations in the form of office desk screens and freestanding screens enable face-to-face interaction without the risk of transmission. These protective screens, also known as sneeze guards, are made from plexiglass or acrylic materials that are semi-transparent and easy to clean; another alternative would be fabric screens. Additional benefits of these screens include improved acoustics as well as a greater sense of privacy.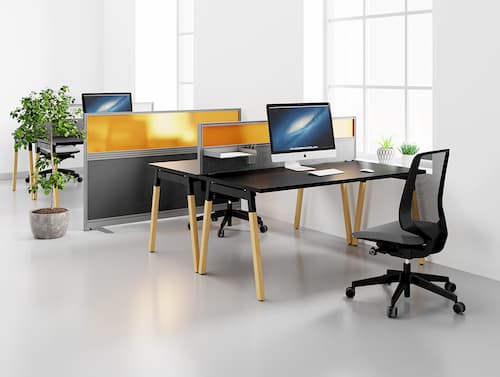 Office meetings are usually held in confined rooms where coworkers come within close distance of each other and often have high-touch spots such as door handles, chairs, markers and so on. Consider repurposing it as a workspace for a limited number of people. Additionally, encourage online video conferencing wherever possible to reduce personal contact. In the case where in-person meetings are required, opt for holding them in outdoor seating or bigger rooms like break rooms/canteen or the open office floor area itself. For small group discussions, ensure that everyone is seated with a 2-metre distance between each other.
In unpredictable times like these, our needs keep evolving and so should our strategies to adapt to it. These key suggestions allow for flexibility with employees' well being at the top of the list of priorities. Furthermore, clearly communicating your "return to work" plan with your team will ease some of their concerns and doubts.
If you need assistance in preparing your office for returning to work, our experienced sales team has prepared a Back to Work catalogue to guide you through all the options available for your office including bespoke solutions. Alternatively, you can also contact us today to learn more and discuss your requirements with us.